Adult Services
Disabled Adults and Seniors
Older adults and those with disabilities deserve the freedom to live safely in the comfort of their own home.
We believe in your right to dignity, to self-determination, and to live with as much independence as possible.

If you or a loved one is an older or dependent adult, we want to partner with you. Alongside with other agencies in the community, we will create a plan that is tailor-made to your unique needs.
We are part of a countywide multidisciplinary team of legal and health advocates to provide community education and investigate reports of elder and dependent adult abuse. Learn more by watching this video.
Image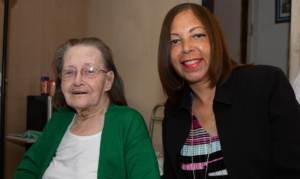 Riverside County Adult Services Division Programs
Homeless Multidisciplinary Personnel Team - Assembly Bill 210
Effective January 1, 2018 Assembly Bill (AB) 210 allows for the establishment multi-disciplinary personnel teams (MDTs) to serve homeless adults and families within the County.  In addition, members of the MDT are authorized to share and exchange confidential information for the purpose of coordinating housing and supportive services.
AB 210 also requires counties to establish a protocol governing the sharing of information.  Riverside County's AB 210 Protocol can be found here.