Become a Resource Family
 Children's Services
Learn More 1-800-665-KIDS (5437) – Se Habla Espanol
Each child deserves a safe and stable environment that helps them thrive.
In Riverside County, approximately 4,500 children have been removed from their families because of abuse, neglect, or abandonment. These children need love, consistency, and commitment. They need you.
You can be the adult that these kids need. Call 1-800-665-KIDS (5437) and begin the process of becoming a resource family.
Resource Families provide a caring and supportive environment for kids who cannot live with their birth families until problems are resolved. Resource families are part of a powerful, life-changing team that works towards the goal of reunification. This team consists of social services staff, biological parents, and you. Together, we can provide safe and loving homes for every child in our county.
For children who cannot reunite with their biological parents, foster placement may be the first step towards adoption or guardianship.
DPSS is also a state-licensed adoption agency that accepts children when birth parents give up their parental rights. We invite you to become a member of the Riverside County Resource Family program. Open your heart and home to a child. Call 1-800-665-KIDS to learn more.
Image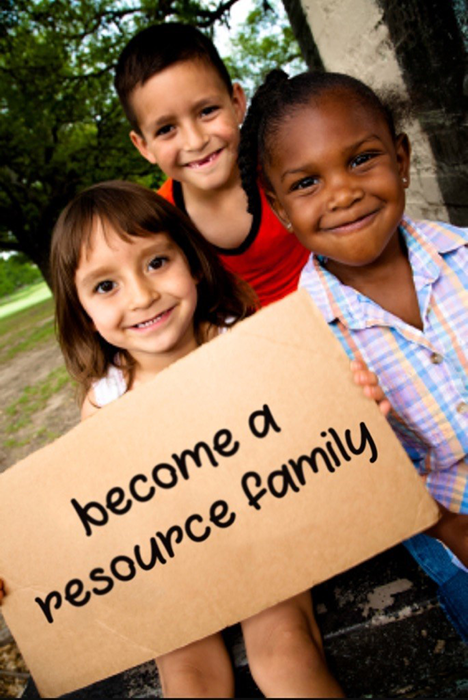 We developed the Resource Family Approval (RFA) program to consolidate and replace existing approval requirements for families seeking to care for children and youth in foster care. The requirements include:
Foster parent licensing and certification
Relative approval
Adoption, and guardianship approvals
The process consists of:
Application
Background check
Home environment assessment
Family evaluation
Once approved, a Resource Family is able to be an emergency, temporary, and/or permanent family for a child.
QPI ensures every child removed from their home is cared for by a skilled, nurturing foster family. QPI also prioritizes helping the child maintain connections with their birth family.
Learn more here.
As a Resource Family, you may be eligible to receive funds under the Approved Relative Caregiver (ARC) program. Learn more here: English / Spanish
To learn more about our foster care program, click here.
For more information on how to adopt in Riverside County and the adoption process, click here.