For Immediate Release
June 30, 2020
Contact: Gene Kennedy
Senior Public Information Specialist
(951) 203-0343 – gkennedy@rivco.org
Riverside County Recruiting In-Home Caregivers to Help Vulnerable Adults
Hourly pay is $13.25 and the need for workers will continue as population ages.
RIVERSIDE COUNTY, Ca.—Gabriela Suarez has held many kinds of jobs in her lifetime and, as the worldwide pandemic continues, she is grateful to have found a job that positively impacts vulnerable and aging adults in her community.
Suarez is one of more than 32,000 caregivers who help 38,000 seniors and dependent adults in Riverside County live safely at home by assisting them with personal care, household tasks, shopping, transportation and other services.
Officials say many more caregivers like Suarez are immediately needed in Riverside County, where the number of residents aged 85 and older is expected to increase by more than 700% in coming decades according to data issued by the California Department of Aging.
"This is a win-win opportunity," said Eva Krottmayer, executive director of the In-Home Supportive Services (IHSS) Public Authority at Riverside County Department of Public Social Services, which is recruiting caregivers right now.
"Our IHSS recipients need support. Many residents who've lost work in the pandemic are searching for employment. It's is the perfect time to consider becoming a caregiver and improving lives," Krottmayer continued, adding that the need is especially great in Anza, Blythe and the Coachella Valley.
Suarez, a native of Honduras, says spending time with clients is like spending time with family.
"It is such a relaxing, peaceful occupation. I enjoy every minute of it," says Suarez, who lives in Desert Hot Springs and is a member of the IHSS Public Authority registry. "There are a lot of people out there who need our help at this time. This is a profession that anyone who has a good heart should consider."
The primary purpose of the IHSS Public Authority registry is to provide a free and voluntary resource that helps people who need support at home find a caregiver, added Krottmayer, the Authority's executive director.
"Locating and hiring a caregiver can be challenging, especially in areas with severe shortages," Krottmayer noted. "This is where the IHSS registry steps in and helps match our clients to caregivers they can trust."
The current wage is $13.25 per hour. The position offers paid sick leave and flexible schedules. Applicants must pass a background check, be able to perform personal care services, and provide transportation.
###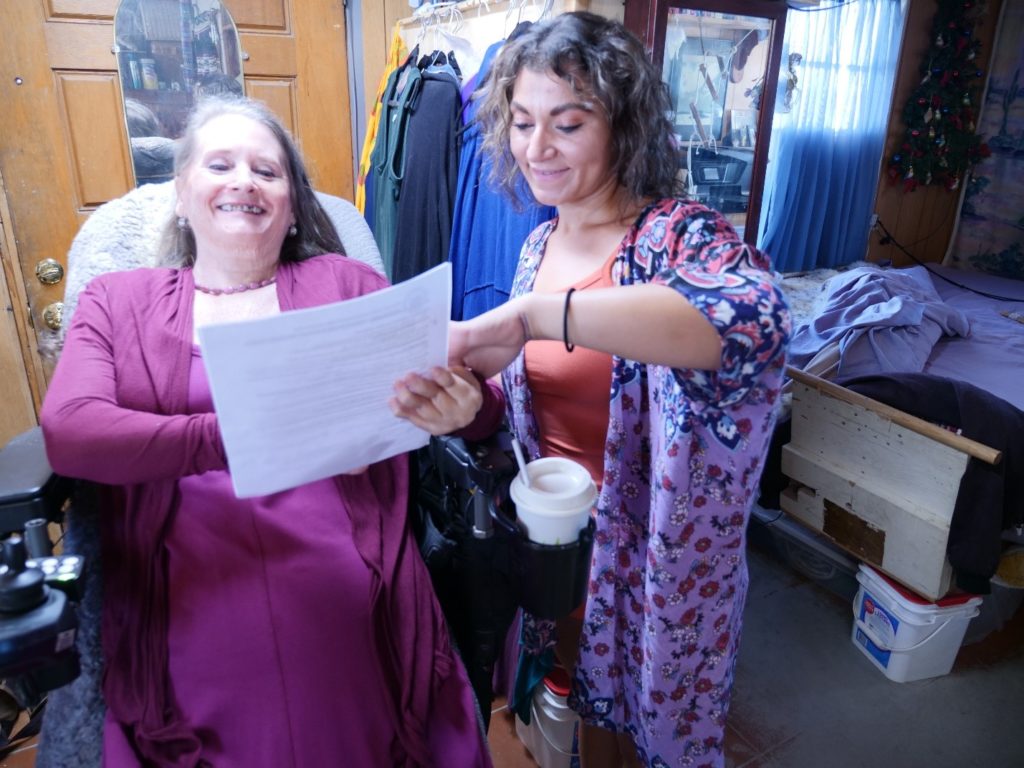 Gabriela Suarez, a Riverside County IHSS Public Authority caregiver, helps her client, Kristine Loomis, in her Sky Valley home. (Photo credit: Riverside County Department of Public Social Services)