Faith in Motion supports foster children throughout Riverside County
By Diane A. Rhodes, Special to Valley News
The Faith in Motion program works with more than 100 Riverside County faith-based partners to support activities, collect and distribute donations, provide resources and host recruitment events for families with a desire to open their homes and hearts to children in foster care.
The program seeks to develop lasting collaboration and partnership between the faith-based community and the Riverside County Department of Public Social Services.
"Faith in Motion helps fill resource and service gaps by connecting the local faith community to the needs of children and families involved in the child welfare system," FIM manager Irene Capen said. "It also establishes lasting relationships for clients through foster parent recruitment and mentorship for foster youth and young adults. The program also recruits and engages potential resource (foster) and adoptive families to provide care for children and families in need."
Capen has fostered 11 children and adopted two. Her adoption and fostering journey and how she came to lead Faith in Motion is detailed in a podcast that can be found at https://rivcodpss.org/dpss-news/podcast.
…to read the full story, click here to visit Valley News Temecula.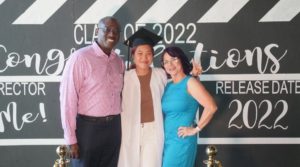 Wasinee Nugsiang, center, 18, gives a peace sign while taking a photo with her foster parents, Kwame Addo and Becky Gosling-Addo, during the 2022 high school celebration for Riverside County foster youth at Harvest Christian Fellowship in Riverside Thursday, June 14.