For Immediate Release
September 30, 2021
Contact: 
Gene Kennedy, Senior Public Information Specialist
(951) 203-0343, gkennedy@rivco.org
250,000 Riverside County Residents to See Increase in Food Benefits on Friday
CalFresh customers to receive one of the largest increases in history of federal program 
RIVERSIDE COUNTY, Calif.—A quarter million people in Riverside County will see a healthy increase in their grocery budget on Friday when an expansion of their federal food benefits is set to take hold.
The October 1 increase marks one of the largest-ever in the federal program known as SNAP– or CalFresh in California. Anti-poverty advocates say the extra help will be felt by millions of Americans, including Riverside County households that are struggling to make ends meet in the face of rising prices.
The average monthly CalFresh benefit per customer will increase by about $36, which equates to more than $140 for a family of four. Officials say the increase will make a positive difference at the grocery store checkout counter.
"This program is vital to children and adults in Riverside County. It empowers our customers by providing them with means to buy heathy food and increase their food security," said Allison Gonzalez, assistant director of the Self Sufficiency program at the county's Dept. of Public Social Services.
CalFresh, the state's largest anti-hunger program, has been crucial in reducing food hardship and stimulating economic activity during the pandemic. Last year, CalFresh generated more than $1 billion in economic activity for local grocers and eateries in Riverside County, according to the state program's calculator.
Customers who currently receive CalFresh benefits do not need to take any steps to receive the increase. The extra benefits will automatically appear on monthly balances on their Electronic Benefits Transfer (EBT) cards in October.
The increase in food benefits also corresponds with an increase in cash assistance. Customers in the CalWORKs program who receive cash-aid will see their maximum benefit amount rise by 5.3 percent to help individuals and families with rising costs for goods and housing.
Riverside County residents interested in applying for food and cash benefits can visit BenefitsCal.com or apply for CalFresh at GetCalFresh.org.
# # #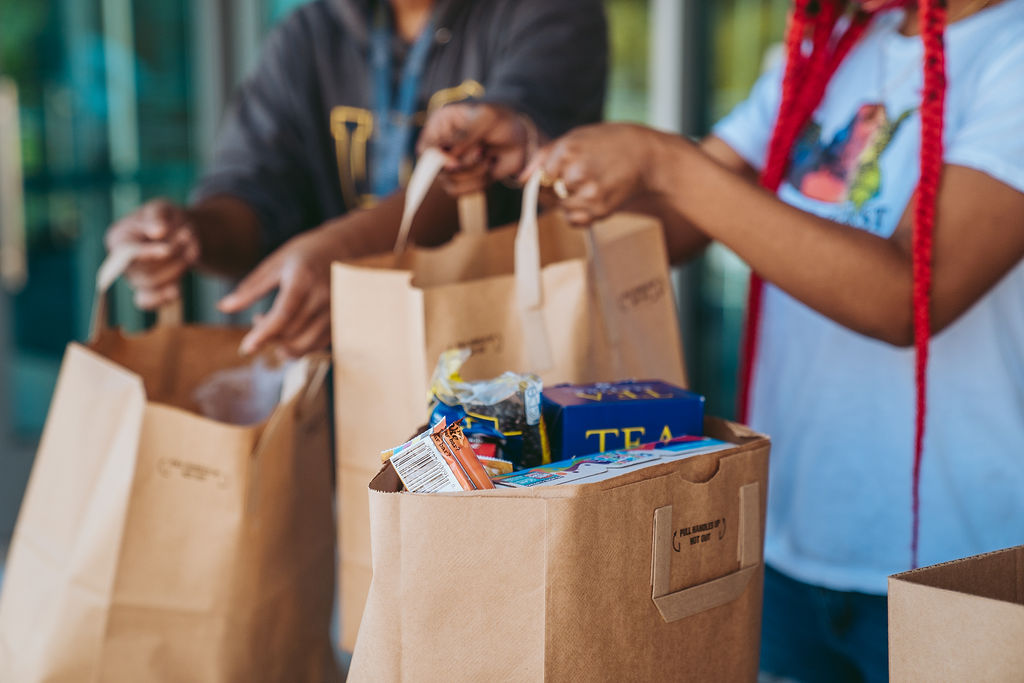 Students at University of California, Riverside hand out bags of groceries to fellow students in need at the campus' food pantry.
Some UCR students receive food assistance through the federal SNAP program, or CalFresh in California.
Recipients will see a historic increase in benefits beginning Friday, Oct. 1.